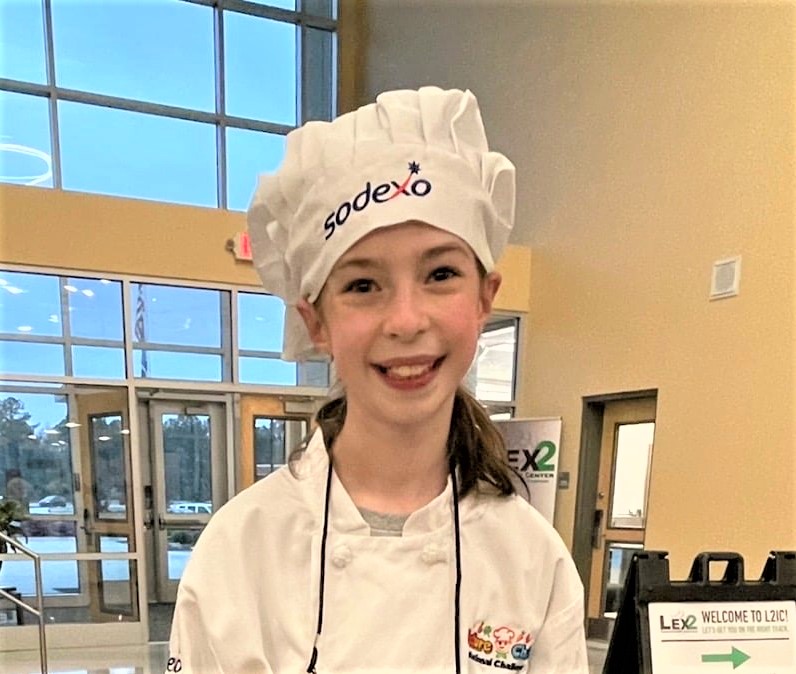 Chandler Dorn, a Springdale Elementary student, wins "Future Chefs Challenge"
March 11, 2022
|
|
Comments Off

on Chandler Dorn, a Springdale Elementary student, wins "Future Chefs Challenge"
|
NEWS
A fifth-grade Springdale Elementary student is the winner of the 11th Annual Sodexo Future Chefs Challenge in Lexington Two.
Chandler Dorn was the top chef from a field of 16 finalists, all third-, fourth- and fifth-graders representing the district's elementary schools. The finalists' recipes were themed to books or movies.
All finalists prepared their dishes Thursday in the culinary arts kitchen at the Lexington Two Innovation Center. A panel of judges selected Chandler's Snow White & the Seven-Layer Trifle, inspired by Snow White and the Seven Dwarfs, as the winning recipe.
In addition to Chandler, other finalists, their schools, and recipes included:
Cayce Elementary: Piper Lovett, Despereaux Soup (The Tale of Despereaux); Piper Robuck, Nacho Boats (The American Tale); Jalen Jackson, Charlie's Chocolate Hummus (Charlie and the Chocolate Factory)
Congaree Elementary: Chelsea Crawford, Tony's Spaghetti and Meatballs (Lady and the Tramp); Hampton Lowman, Steak Kabobs with Garlic Parmesan Drizzle (The Great Outdoors)
Riverbank Elementary: Douglas Dozier, Morning Glory Muffins (If You Give a Moose a Muffin); Lily Griffin, Dragons Love Taco Dip (Dragons Love Tacos); Adam Mintz, Crabby Patties (Spongebob Square Pants); Gracyn Moritz, Green Eggs & Ham (Green Eggs and Ham); Titus Smerdell, The Great Biscuit (Biscuit)
Saluda River Academy for the Arts: Fynley Coker, Kevin's Home Alone Pizza (Home Alone); Gabriella Dorsch, Clue-berry Ice Cream (Blue's Clues)
Springdale Elementary: Katherine Boykin, The Salad of Winnie the Pooh and Friends (Winne the Pooh); Arianna Helgeson, Veggie Sailor Stickers (Sailor Moon)
Wood Elementary: Addie Post, Harry Potter and the Sorcerer's Eggs (Harry Potter and the Sorcerer's Stone)
Lexington School District Two joins 253 other school districts nationwide that are holding Future Chefs events throughout February and March. The winning student from each participating district will be considered for 40 regional finalist awards, and the selected regional finalists will vie to become one of five national finalists competing for the public's vote on SodexoUSA.com this spring.