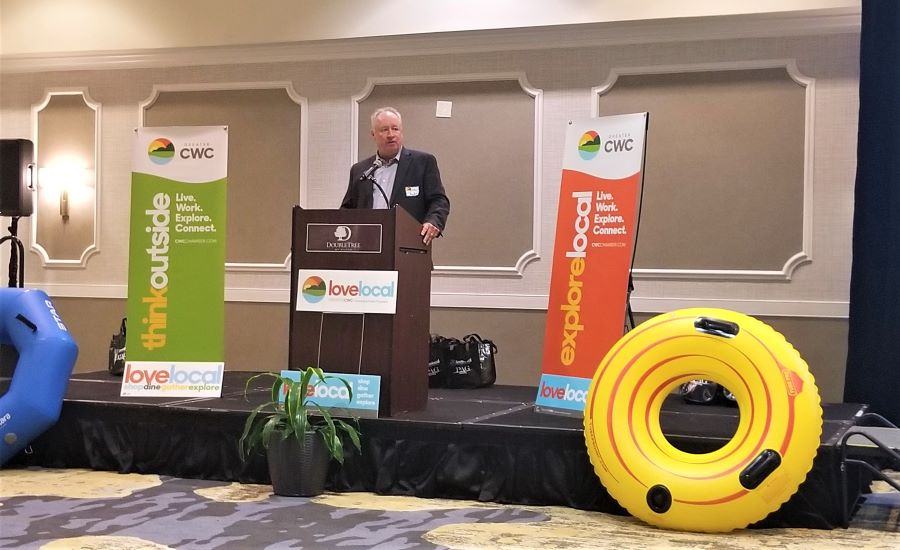 Cayce-West Columbia Chamber's Tourism Symposium stresses the value of the area's top attractions
July 27, 2021
|
|
Comments Off

on Cayce-West Columbia Chamber's Tourism Symposium stresses the value of the area's top attractions
|
NEWS
The dollar of a tourist does not see the Congaree River as a line that divides Lexington and Richland County.
Be it the rodeo in South Congaree and Riverbanks Zoo or Cayce Historical Museum and Congaree National Park, "We want to keep people here and keep them here as long as we can," said Tim James, president and CEO of the Greater Cayce-West Columbia Chamber of Commerce. And "here" is anywhere in the Midlands, from Springdale to Columbia and beyond.
The Chamber conducted a first-of-its-kind Tourism Symposium Monday with stakeholders, elected officials and the management of the Midlands' top attractions. It was held in the large conference room of the Double Tree by Hilton and featured many speakers. Rick Lackland of Double Tree said the Lexington County facility can hold up to 1,500 people and has the capacity for large dining events.
Springdale Mayor Michael Bishop came and so did South Congaree Mayor Cindy Campbell. Also, West Columbia Mayor Pro-Tem Jimmy Brooks was in attendance, along with Cayce City Councilman Phil Carter and West Columbia Councilmen Mike Green and David Moye.
Andy Thomas of the Cayce Historical Museum spoke about the museums' extensive Native American artifact collections and 1749-style dwelling and 1825 smokehouse.
"We have visitors who come from all over to tour the museum," Thomas said.
River Alliance CEO Mike Dawson said plans are in the works for a visitors center at Cayce's 12,000-year History Park. He also said the Saluda River trail in Columbia is open and it will become one of the area's top attractions.
Susan O'cain of RiverBanks Zoo and Gardens reminded the crowd that Riverbanks Zoo is now fully open. It was closed for periods in 2020 due to COVID, but the zoo still attracted close to 1 million visitors. It is the most-visited zoo in the Southeast and can draw as many as 1.4 million in a year, she said.
Nate Terracio of The Koger Center said that venue attracts 125,000 a year and saw huge crowds for the play Wicked. He said The Lion King is coming in March and that show should be another large draw. Terracio also said dance competitions drew Koger Center users during COVID.
John Banks talked about the popularity of the Cayce-West Columbia Parade of Lights for Christmas. He said as many as 30,000 come for the unique night time parade.
Banks also said street festivals are successful, including West Columbia's Kinetic Derby Day and Cayce's Soiree on State. Tartan Day South in Cayce has also become a successful event to draw tourists from all over for a four-day stay.
Lynn Berry and Greg Cunningham spoke about Congaree National Park. It has received 113,000 visitors in 2021 and the park is experiencing record amounts of traffic.
Scott Powers of Experience Columbia -Sports said basketball tournaments and travel baseball thrived during the pandemic. He also said dance competition events were up 300 percent in the COVID year. He said sports tourism draws visitors to the area from all over the country.
Jorge Andrew of Lexington County Recreation said the county's sports facilities are a huge asset to draws visitors.
Michael Mayo of Palmetto Outdoor access to the area's rivers why his tube-floating busness has gown over the last decade or so. He said 1,000 floated down the river with Palmetto Outdoor this past weekend. He said many of those tubers come from other states and stay in local hotels and eat at the restaurants. He also said 2020 was a great year for visitors.
Chamber Board President Haley Bowers and Michael Norris, of Outside the Box Promotions, encouraged the crowd to post pictures of activities in the are on social media because it will influence potential visitors. A graphic showed that Riverwalk and Carraway Park in West Columbia are top two sites visited on the Chambers website.