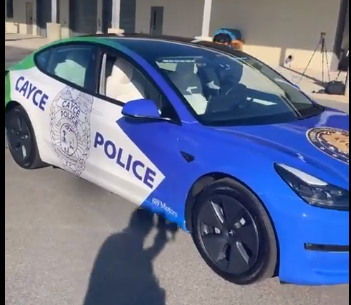 Cayce Police Department introduces its new Electric Police Car
October 7, 2022
|
|
Comments Off

on Cayce Police Department introduces its new Electric Police Car
|
NEWS

From The City of Cayce –The Cayce Police Department introduced its first-in-the-state Electric Police Car Friday morning at the Lexington Two Innovation Center. It's a Tesla 3.
Cayce Mayor Elise Partin and Lexington School District Two Superintendent Brenda Hafner, joined Jonathan Sanchez, owner of 212 Motors in Cayce and Matt Vaughn, Owner of Signarama in Cayce to unveil the E-Police car. Cayce Police Chief Chris Cowan spoke at the event, too.
Hafner said the e-car represents the ability to think outside the box. Cowan commentated, too.
"Not only are we launching this specific first-in-the-state e-policing initiative, we are partnering with our local Cayce businesses to do so," Cowan stated in a City of Cayce press release. 212 Motors donated the car. Signarama decorated it.
Cowan also said multiple police departments in the country use E-cars. The CPD has 65 gas-powered vehicles. Cowan said the CPD also uses e-Bikes to patrol its Riverwalk. There will be a charging stations at the City of Cayce complex. There are existing charging stations at the Lexington Two Innovation Center and at 212 motors.