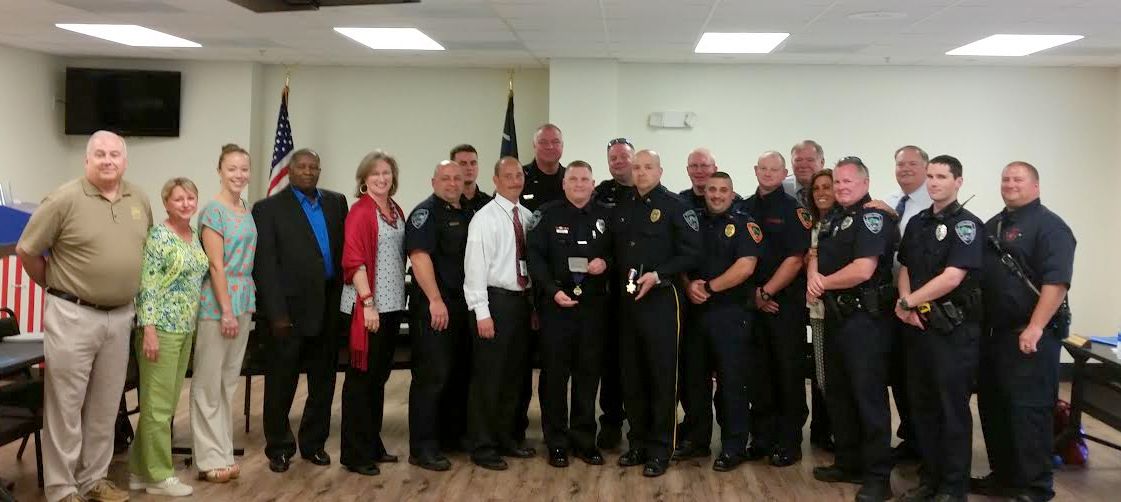 Cayce Officer Ballentine gets valor award, Kelly receives Purple Heart
April 8, 2016
|
|
Comments Off

on Cayce Officer Ballentine gets valor award, Kelly receives Purple Heart
|
NEWS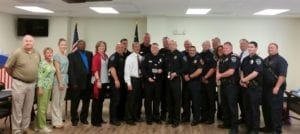 It's well-known that police work can be life-threatening.
And on Wednesday Cayce Department of Public Safety Officers Rhett Kelly and Sgt. Frank Ballentine were presented awards for their reaction in a dangerous situation last November.
Ballentine received the Medal of Valor from the South Carolina Police Chiefs Association. Kelly was given a Purple Heart. Cayce Mayor Elise Partin presented the awards to the men.
"These officers are deserving," Partin said. She said they acted heroically in a stress situation.
It was dark, in the wee hours of the morning, when Kelly and Ballentine investigated what turned out to be drug activity. The driver of a car drew a weapon, and shot at the men. It was 1:30 a.m. on Nov. 17. With Kelly hit by the gun fire, it gave the assailant time to run. Ballentine had to make a split-second decision. He could not let an armed and dangerous shooter loose in the residential area. The danger to the people in the neighborhood was too great. With is partner hit in the leg, Ballentine gave chase to the fleeing suspect. In returning fire, Demetrius Shelley Bryant, 21, of Columbia, was shot. He died.
The Cayce officers – as part of routine procedure- were reviewed the incident. Ballentine and Kelly were found to have acted properly. Kelly recovered and in February, the officers were cleared.
For his actions, the officers who work with Ballentine, nominated him for the Medal of Valor award.
Ballentine said he is appreciative of the support he received from people in the community, and fellow officers, after the harrowing encounter.