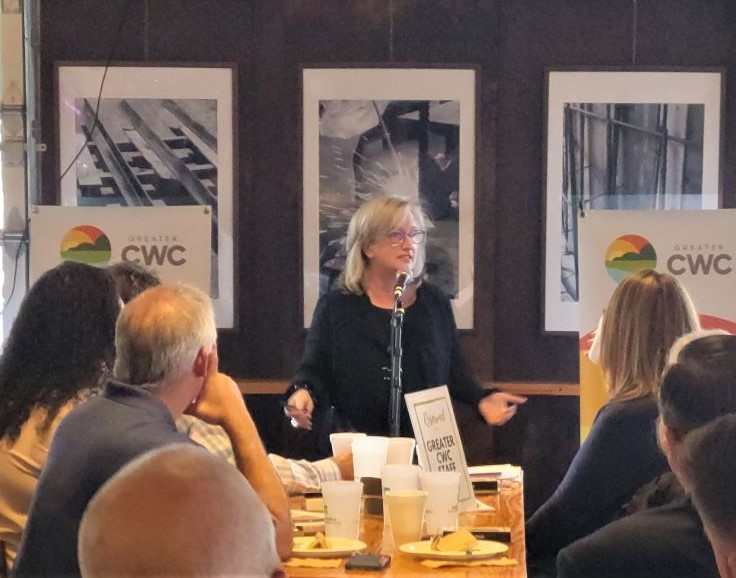 Cayce Mayor Elise Partin talks revitalization at Cayce-West Columbia Chamber Breakfast
May 24, 2023
|
|
Comments Off

on Cayce Mayor Elise Partin talks revitalization at Cayce-West Columbia Chamber Breakfast
|
NEWS, Social Media
Cayce Mayor Elise Partin was the featured speaker at the Greater Cayce-West Columbia Chamber Breakfast, Tuesday. It was held at Steel Hand Brewery in Cayce. The venue was packed, with standing room only.
Partin spoke about the access to the Congaree River and the many Cayce parks, but she also spoke of revitalization.
She said the Soiree on State, an annual party on State Street that began in 2017, drew 1,500. During the Soiree art was placed in vacant buildings in an effort to draw possible investors.
Since then, Swatch Graphics, Piecewise Coffee, State of the Art gallery and Dialed Bicycles have opened for business in formerly unoccupied spaces on State Street. And Salvage Sisters just opened, Trini Lime Caribbean Café is coming soon and a medical rehabilitation facility will soon open off of 12th Street Extension.
"Place matters and attracts new business," Partin said.
In addition to the new businesses, Murals adorn the sides of many buildings and there is a park with sculptures. Electric boxes have been wrapped with graphics and signs with historical photos have been placed in vacant buildings to liven them. There is a painted path to Cayce's Riverwalk and soon manhole covers will be painted, too.
At Cayce's entryway from Columbia, new high-end apartments have been built and the Brookland-Cayce High School basketball arena highlights the Knox-Abbott Drive corridor.
The Steel Hands Brewery sits on a site where an out-of-control fire raged for three days a decade ago.