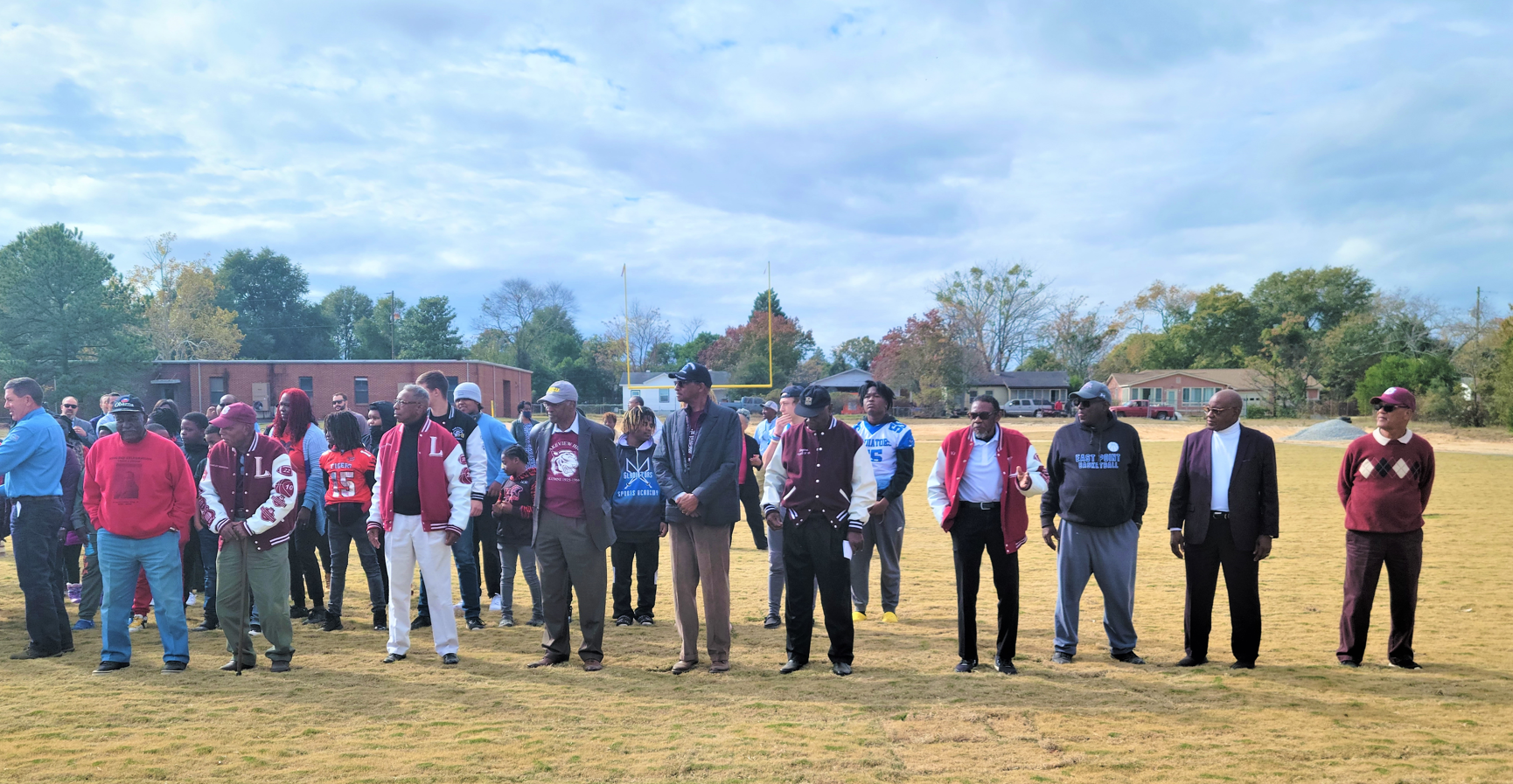 Brookland – Lakeview Empowerment Center "Field of Dreams" is dedicated
November 22, 2022
|
|
Comments Off

on Brookland – Lakeview Empowerment Center "Field of Dreams" is dedicated
|
NEWS, Social Media
It was once known as the Dust Bowl, but now the Brookland-Lakeview Empowerment Center football field has new turf, new lights and an irrigation system.
The renovated field at 1218 Batchelor St. in West Columbia was dedicated Tuesday.
Rev. Charles Jackson, pastor of Brookland Baptist Church, owner of the BLEC, said restoring the field was a "difficult task" but after a lot of work and prayer, the field has been rejuvenated.
The field is at the site of the old Lakeview High School. Many of the alumni, some in letterman jackets, from that segregated school were on hand. Their old field now hosts the West Columbia Tigers youth football teams.
Jackson said he wants the field to help ignite a spiritual transformation in the community and he said a "saved neighbor is a safer neighbor."
State Sen. Nikki Setzler also spoke. He said the field "looked awful" and was an "embarrassment" before the renovation. Setzler, along with State Rep. Micah Caskey, helped secure a $300,000 grant to go toward the upgrade.
Donny Burkett, of Burkett, Burkett and Burkett CPAs donated the seed money to fix the field. Burkett gave the money in the name of his wife, Jeannie, who passed away March 15, 2020.
Another partner in the renovation was Dominion Energy. Dominion President Keller Kissam said Dominion was honored to be a part of the project. Bennie Sulton, Chairman of the Brookland-Lakeview Empowerment Center, Dr. Rudy Wise and West Columbia City Councilman Mickey Pringle, were also recognized for their contributions to the effort.
Others on hand were: US Rep. Joe Wilson; Lexington County Sheriff Jay Koon; West Columbia Police Chief Marion Boyce; Cayce Police Chief Chris Cowan; and Lexington Police Chief Terrence Green.