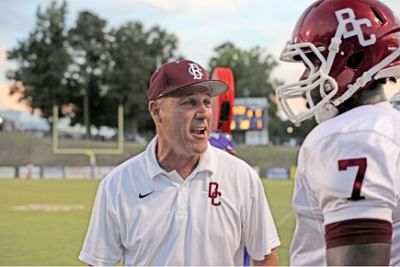 Brookland-Cayce's QB dilemma and post-game notes
August 23, 2015
|
|
Comments Off

on Brookland-Cayce's QB dilemma and post-game notes
|
NEWS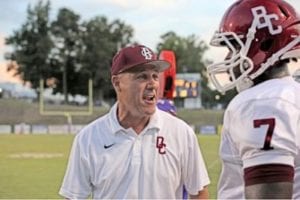 Brookland-Cayce Head Coach Rusty Charpia needed a quarterback Friday night.
His starting quarterback Kozi Brown was banged up in the hostile environs of Fairfield Central (FC.)
Enter Reed "Razor" Charpia. The freshman was as sharp as his nickname. Throwing two touchdown passes to help secure a 36-24 Bearcats win over the powerful Griffins.
"The original plan was for him to play JV," said Charpia of his ninth-grade son.
Coach Charpia said he thought Razor would get a chance to just watch and get comfortable in the varsity system before getting any live snaps.
"I didn't expect to have to use him,"  Charpia said. But there was no JV game, so Razor dressed out for the varsity game. And the coach was pleased with the results."He responded well to being down in a hostile environment," Rusty Charpia said.
Razor's passing not only produced scores, it forced the FC secondary to pay more attention to the pass. BC running backs A.J. Brown and Charles Balkcom took advantage of that, breaking off some big plays to put the game away, late.

Coach Charpia said the success of Razor will likely mean the freshman will dress-out on the varsity team. High school rules will not allow him to be dressed out for the JV and varsity team. So a decision will have to be made.
BIG WIN
Charpia said he was proud of the Bearcats for playing hard in adversity and not giving up. The team had two fumbles and was down by two scores. BC benefited from two first-half fumbles by FC, to stay in the game.
"We've come a long way," Charpia said. "Our players believe in each other and their coaches."
Charpia said a turning point in the game was a fake punt for a first-down in the second half.
Fairfield Central was not a pushover. The Griffins made it to the Upper-State Final in 2014. Charpia said he would not be surprised if Fairfield Central does not lose another game. The program has a winning tradition.
DEFENSE
Charpia lauded defensive lineman Tay pringle for playing despite "a tweaked ankle" in the first half.
It was a very hot, humid night and many players had cramps, for both teams.
Defensive player Danny Williams was hurt, but came back to play.
Keyshawn James got an interception late and Dominick Byars played an exceptional game on D," Charpia said.
He also said he was proud of the play of the whole defense.