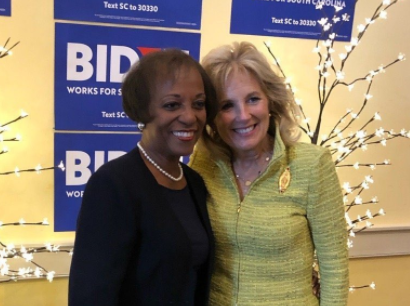 Brookland Baptist's Robin Jackson part of Presidential Inaugural Prayer Service
January 21, 2021
|
|
Comments Off

on Brookland Baptist's Robin Jackson part of Presidential Inaugural Prayer Service
|
NEWS
The Virtual Presidential Inaugural Prayer Service is at 10 a.m. Thursday.
Robin Jackson, First Lady of Brookland Baptist Church (the wife of Senior Pastor Dr. Charles Jackson) has been invited to give one of the prayers at the 59th Annual Inaugural Prayer Service. Brookland Baptist Church is home to West Columbia's largest congregation.
Below is a description of Jackson's relationship with the Bidens.
Joe and Jill Biden visited Brookland Baptist Church on May 5, 2019. First Lady Robin and Dr. Jill Biden became Prayer Partners. Every Wednesday Robin would text Dr. Jill to let her know she had called their names in prayer. Dr. Jill would always return a text expressing appreciation. The Presidential Inaugural Committee recorded the prayer on Saturday, January 16th, at 1 p.m.
On Thursday, President Joe Biden will join the virtual event hosted by the Washington National Cathedral, and the service will be livestreamed at https://bideninaugural.org/watch and https://cathedral.org with closed captioning and ASL provided.
The diverse program will include prayers, readings, blessings, and hymns from interfaith leaders, celebrated artists, and other inspiring voices who will come together to mark the beginning of a new national journey that restores the soul of America, brings the country together, and creates a path to a brighter future.
"The National Prayer Service is an important tradition for our nation and for President Biden, who has always been a man guided deeply by his faith. The program announced today will honor the role of faith in our country, and provide a moment to reflect on the unprecedented challenges we face, as we enter this new American chapter of healing to beat the pandemic, build back our economy better, and unify our country," said PIC CEO and Delaware State University President Dr. Tony Allen.