BCHS Band leaves for TaxSlayer Bowl, Thursday
December 29, 2015
|
|
Comments Off

on BCHS Band leaves for TaxSlayer Bowl, Thursday
|
NEWS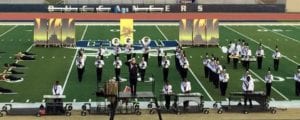 The Brookland-Cayce High School Marching Band is on the move.
The BC Band is leaving Thursday morning to perform at the TaxSlayer Bowl on Jan. 2, in Jacksonville, Fla.
BCHS Band Director Aaron Acord, who has been teaching band for three years, is taking 28 students to Jacksonville. He said his band members are a deserving group, that has responded well all year.
The BCHS Band will take the field at halftime of the bowl game, that used to be known as the Gator Bowl. The game begins at noon and features Penn State versus Georgia.

An invitation to perform at the TaxSlayer Bowl is an honor reserved only for the most talented student performers from across the nation, according to a release announcing that BC had been selected.
The BCHS band revived its highest score in the last five years at a statewide competition in October at Charleston Southern University.
"Their teamwork, determination, and great attitudes really shined," said Cheryl Coble, the parent of a band member. She said the band is a "a fantastic group of young people. I couldn't be more proud to have our son associated with Aaron Acord and BC."

Acord said because of financial constraints only 28 band members, of about 70, will be able to go to Jacksonville. The students raised funding themselves to pay for their trip.
The Brookland-Cayce band will join marching bands from across the country in the halftime show.
Before the game, the BC Band will rehearse with a mass band. Band members will also take in the sights of Jacksonville.
Acord said the BC Band was chosen after applying for the bowl game trip. Judges selected 15 bands after reviewing video and studying the record of the band.
Accord said the BC Band had a good year and he was confident it would be picked to go to the bowl game. He also said he is optimistic about future and the ability of the students coming to BCHS from the middle school grades of Northside and Busbee.