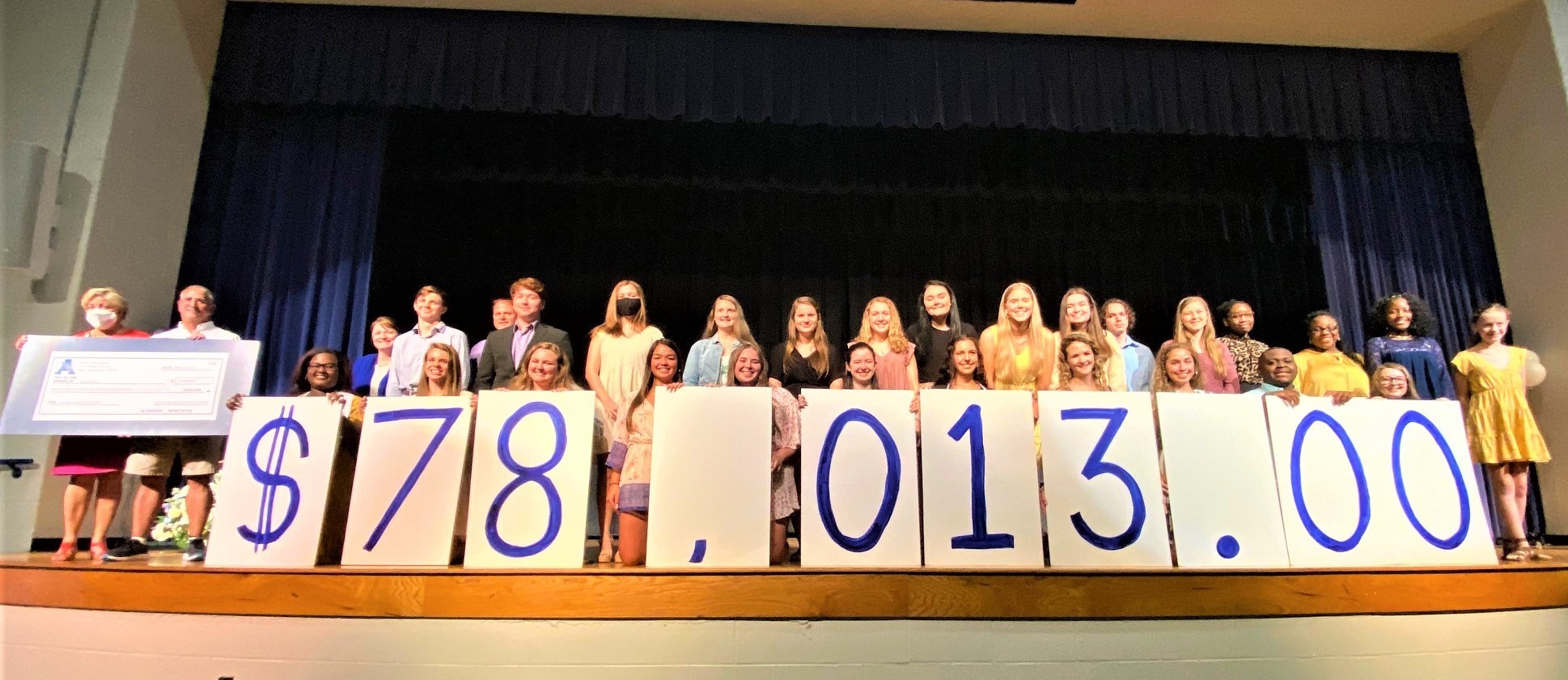 Airport High School raises record amount of money for Camp KEMO kids
May 28, 2021
|
|
Comments Off

on Airport High School raises record amount of money for Camp KEMO kids
|
NEWS
From Daniel Bailey – AHS Student Activities Director – It was the culmination of a gargantuan humanitarian effort by Airport High School students.
The Airport High School Student Council collected more than $78,000 in 2021 for Drive to send kids to Camp Kemo. The check was presented to Prisma Health Children's Hospital, Thursday.
The Charity Drive for 2021 included seniors from class of 2020, due to the school being closed early for COVID-19 in 2020. Camp Kemo provides programming for children with cancer or a blood disorder. It was also cancelled for the campers in the summer of 2020.
The check presented was for $78,013. It is the largest amount ever given to Camp Kemo from Airport High School.
"Knowing how dear and important Camp Kemo is to us, our student council, the student body, and teachers were all eager to put in their best effort to execute these events and to make the week as a whole very special," said AHS Student Body President Isha Bojang. "It was a different experience but I can definitely say that we made the best out of it and I am super proud of my council,"
Many events for the 2021 Charity Drive had to be altered or changed completely due to COVID-19 precautions.
"Our school had to really rally around this week, to continue the tradition, and they took the extra cleaning protocols and paid special attention to all aspects of keeping our students safe," said Daniel Bailey, one of the student council advisors. "Several events included our famous flamingo flock, the car smash and our fourth block throwdown. These events raised a lot of money for the charity week and students have a blast being part of this wonderful event to raise money for our Camp Kemo family."
"We continue to raise money for Camp Kemo each and every year because of how close this organization is to not only our home, but our hearts," said Sydney Coleman, student body vice president. "Not only does our council put in extreme amounts of time and effort organizing and carrying out this one week, but we are also given the opportunity every summer to go and visit during the week of Camp Kemo, where our members get to see first hand the smile on these kids' faces."
One-hundred percent of the funds raised from the Class of 2020 and the Class of 2021 will go toward Camp Kemo in 2021. The cost to send a student to camp is between $800 and $1000, and this amount will send around 78 kids to camp at no cost. "We are extremely proud of our students, staff, administration, families and local businesses that supported us in our efforts," said Bojang.