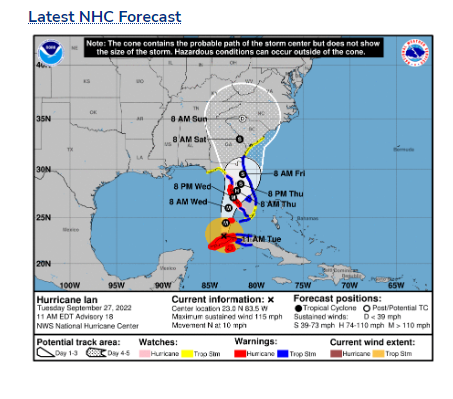 Airport, Brookland-Cayce, USC change football game time because of Hurricane Ian threat
September 27, 2022
|
|
Comments Off

on Airport, Brookland-Cayce, USC change football game time because of Hurricane Ian threat
|
NEWS, Social Media
The University of South Carolina has moved its football game against S.C. State to Thursday because of the threat posed by Hurricane Ian. The game will kick off at 7 p.m. at Williams-Brice Stadium.
Also, due to forecasts of possible severe weather associated with Hurricane Ian,  the Lexington Two School district is announcing changes for athletics and after-school activities scheduled on Friday, September 30.
— Brookland-Cayce High School's football game at Orangeburg-Wilkinson is now scheduled for 7 p.m. Wednesday, September 28.
— Airport High School's homecoming football game against Aiken is now scheduled for 7 p.m. Thursday, September 29.
— All other afternoon and evening programs and activities are canceled on Friday, including athletic events, extracurricular activities, after-school programs, and adult education classes.
— Some of the district's athletic and extracurricular events scheduled for Saturday, October 1, are being rescheduled. Please watch for any announcements coming from the schools.
The district will continue to monitor weather conditions throughout the week, in consultation with emergency management officials. Should additional changes in school or athletic schedules be necessary as more is learned about the storm's timing in our area, Lexington Two families will receive updates by phone, email, and district and school social media. Watch local media for storm-related updates as well.